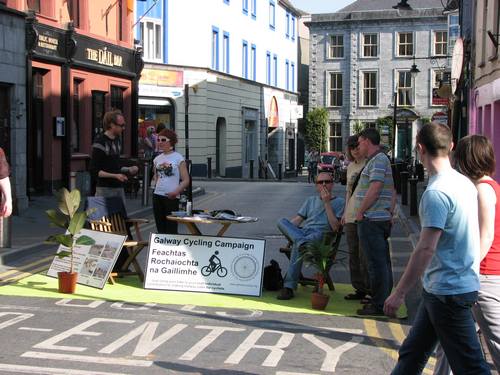 Last Sunday 11 April, to celebrate World Health Day 2010 and Galway City Council's decision to close Cross St. and Middle St. to motorised traffic for the afternoon, the Galway Cycling Campaign converted a small section of the road — the size of a single car — into a miniature public park for the people of Galway. It was the second time we created this mini-park in the city.
By temporarily constructing Galway's newest park, our aim is to creatively explore how urban public space is allocated and used. Inexpensive kerb-side parking results in more motor traffic and less space in our city centre. This in turn hinders the movement of pedestrians, cyclists, and motor vehicles; it adds to the level of CO2 emissions; and it obstructs the creation of a healthy, vibrant human habitat for Galway. We are re-imagining the possibilities of the city landscape.
Our re-interpretation of road space demonstrates that even temporary spatial redesign can improve the character of Galway City. We were also lucky to have a beautiful sunny afternoon. Many curious passers-by stopped to chat, to sample our delicious bicycle biscuits, to sign up to our mailing lists, to read our educational signs and our new Cycling Skills leaflets, and simply to watch the world go by from an unexpected green patch on the road.
We would like to thank Galway City Council for closing Cross St. and Middle St. to traffic for the afternoon, and we're especially grateful to everyone who stopped and said hello. We're already looking forward to the next outing of our mini public park!