Galway Cycling Campaign has welcomed the launch of the city Bike Share scheme (Coca-Cola Zero Bikes) but has criticised City Hall for failing to maximise on the potential benefits of the milestone event.
As highlighted by the recent online petition by An Mheitheal Rothar, which has over 650 signatures to date, Galway Cycling Campaign has expressed its disappointment with the decision to remove current bike parking facilities in order to make way for the new Coca-Cola Zero docking stations. "Galway is significantly underserved in terms of bike parking facilities and the removal of already limited bike parking is a regretful decision by City Hall. Bike parking and docking stations for the Bike Share scheme can and should exist side by side", explained Oisin O' Nidh, Campaign PRO. The Campaign has estimated that 50 parking spaces have been removed in the city centre during the recent installation works.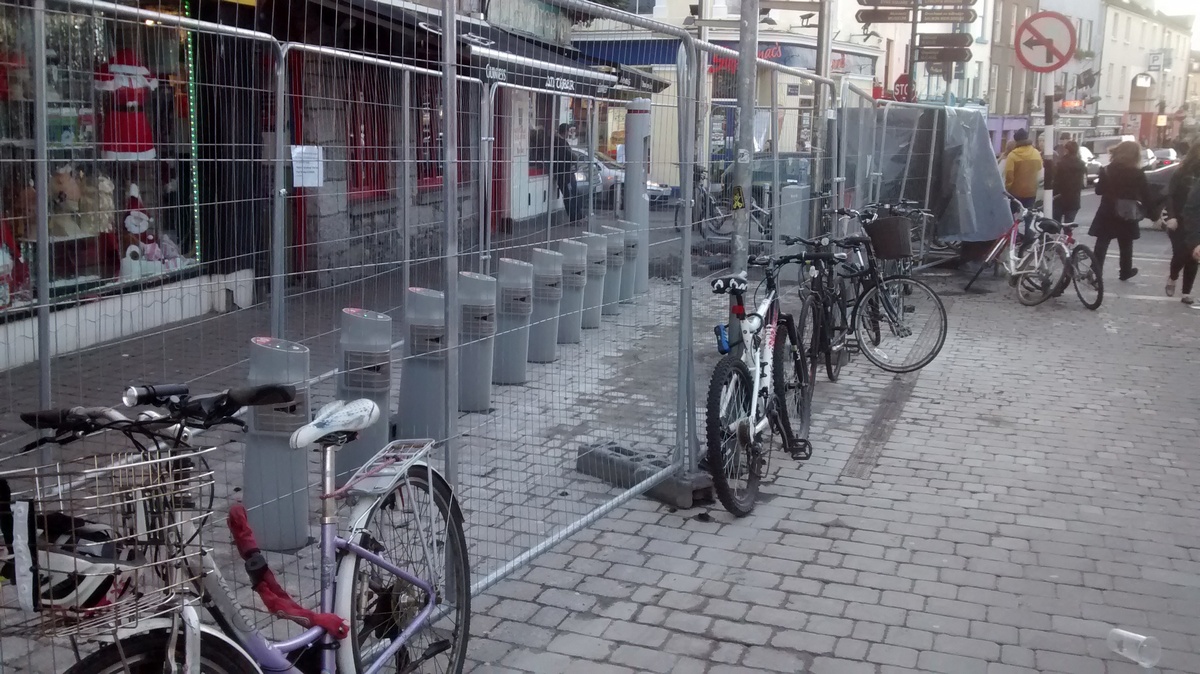 The Coca-Cola Zero Bikes launched on Monday with many unfinished docking stations and two fewer stations than originally planned. The station at Forster Street is to be installed in 2015 under the Fair Green Road Scheme but the planned station on University Road will no longer go ahead. City Hall, in a last minute U-turn, decided to remove one of the three largest docking stations from the entire scheme due to concerns over loss of car parking. "The decision to completely remove a station capable of holding up to 30 bicycles, one of only three of that size, seems to indicate the current priorities of City Hall. UHG and NUIG have lost their primary docking station link to the city centre even before roll out", said Robert Mc Kenny, Campaign Chair.
The issue of one-way streets has also been highlighted by the local advocacy group. The Jacobs Report, which was the initial feasibility study for the Bike Share Scheme, described Galway as being 'awkward to navigate by bike' and recommended providing two-way cycling on one-way streets. The Campaign is quick to point out that this recommendation has not been implemented, "Two-way cycling on one-way streets has been in the City Development Plan for a decade now and The Jacobs Report stressed the importance of this in its Executive Summary. One-way streets lead to long detours for cyclists and we need to do everything we can to make the new Coca-Cola Zero Bikes scheme successful. City Hall have the power to do this", said Mr. Mc Kenny