Join us this Saturday 18 July 2020 for CycleCoffeeCake at 10.30am from Nimmo's Pier through our vibrant city centre and ending at the wonderful Ciarlantini of Woodquay. This is a gentle inclusive cycle for new or nearly-new adults on bikes. All ages and abilities are welcome. We particularly welcome mams who want some confidence before cycling with their children to school in September. Please register – we have limited numbers and need details for contact tracing.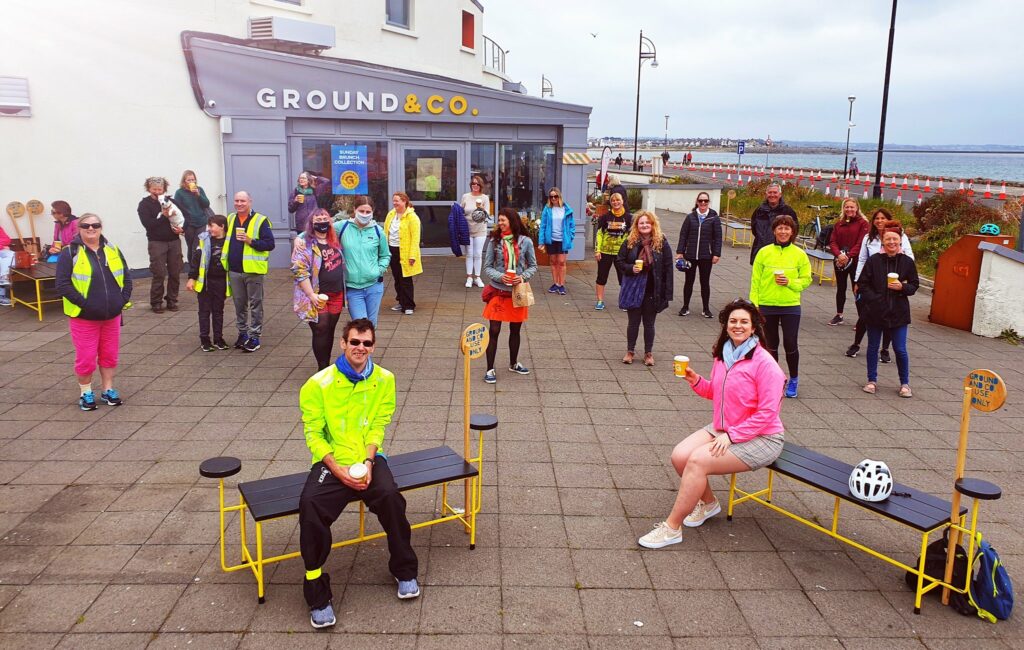 CycleCoffeeCake is a new initiative of the Galway Cycling Campaign and aims to encourage new, nearly-new, and returning cyclers to hop on their saddles and join together in gentle, inclusive cycles around Galway city.
The event particularly welcomes women on bikes, especially mums who want to get more confident cycling around the city before the school year begins, and women of all ages and abilities who are returning to cycling. The bike boom of 2020 is a result of these two groups buying bikes in Galway, and indeed across Ireland.
Galway Cycling Campaign hopes to encourage those who want to become more comfortable cycling and those who would enjoy some support as they gain confidence in cycling around the city.
Please register for this Saturday's event for contract tracing purposes. Numbers are limited. People who arrive on the day without signing-up will not be accommodated.
Event details
Saturday 18 July 2020
10.30am – 12 noon
Meet: Claddagh Hall, Nimmo's Pier
Route: Galway city centre routes, detours, things to watch out for, and bike parking spots
Coffee & Cake: Cafe Bar Ciarlantini, Woodquay

The inaugural CycleCoffeeCake event took place last month and the sounds of chats and bell chimes was heard as the group cycled from the Claddagh Hall to Blackrock before enjoying coffee and cake sponsored by Kevin Nugent and Ground & Co in Salthill.
CycleCoffeeCake sponsor: Bar Italia Ciarlantini of Woodquay
This month, CycleCoffeeCake will again start at 10.30am at the Claddagh Hall and explore routes around the city centre, show useful detours away from major routes, and point out bike parking. The social cycle will end in Woodquay at Bar Italia Ciarlantini.
Lolita of Ciarlantini will sponsor coffee and cake for the first 15 registrations.
Martina Callanan, spokesperson for Galway Cycling Campaign, said, "Cycling is an easy, fun activity for people of all ages and abilities. We want to show newbies and novices safe and pleasant bike trails across the city that end at local cafés where we can enjoy coffee, cake and chats."
"As we kickstart the economy, we want to support our friends and neighbours who own local businesses, especially those that have safe and secure bicycle parking nearby," she added.
Kevin Jennings, chairperson of the Galway Cycling Campaign, commented, "As we look ahead to schools reopening in a few weeks, we want to help parents, particularly mams, feel more comfortable cycling their kids to school, especially if they do not have a local Cycle Bus. CycleCoffeeCake is a great way for adults to meet with others who feel the same way and to share tips from more experienced people on bikes."
As the route will be on roads shared with buses, vans and cars in the city centre, numbers will be limited and only those who have registered in advance will be able to participate.
Keep an eye on our social media @GalwayCycling on Twitter and Facebook.