We always keen to talk to cyclists, and find out what concerns and issues are important to them. Towards this end, we took part in the annual Green Fair at NUI Galway on the 25th of January 2011. The fair aimed to help create awareness of how students and staff can all reduce their impact on the environment.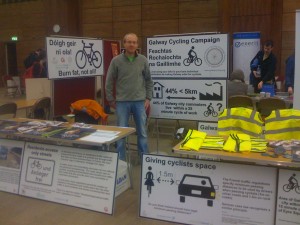 Here, we had the opportunity to speak to a wide range of people who use bikes for transport, recreation or for sport, from occasional cyclists, leisure cyclists, commuters, competitive road bikers, mountain bikers and bike hobbyists alike. All day long, we repeatedly heard people call for increased consideration for cyclists by other road users; safer infrastructure – better surfaced and improved design of roads; slower traveling speeds by other road users within urban areas; and more secure and available bike parking. Many thanks for those who engaged in discussions and took the time to express and share their great ideas on making Galway more cycling-friendly.
A focus on cycling issues was a strong theme at the event, with Critical Mass encouraging folk to come along to their monthly Saturday cycles, and the student's Eco Soc lobbying with a petition for a bike workshop on campus. Cycling is an extremely efficient and enjoyable way of negotiating the city, and the representation of so many groups and attendees with an interest in getting around Galway city and county by bike was impressive. It points to Galway's regrowing and thriving bike scene.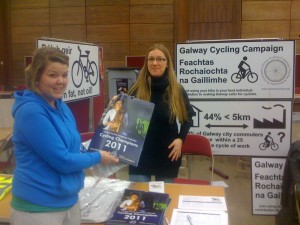 The Green Fair also gave us a great opportunity to further promote a positive image of cycling, by handing out free high visibility vests, clever spoke reflectors, t-shirts, and the hugely popular waterproof seat covers (which help to keep your saddle dry when parked – ingenious!).
Special thanks to Dr. Aoife Collins, NUI Galway's Environmental Manager for her invitation and organisation of the event.