The issue of the Seamus Quirke Road came up at the City Council's Transport Policy committee meeting on Monday 5th of July. The presentation by Joe Tansey, the head of the Galway Transportation Unit (GTU), confirmed that concerns and recommendations suggested by the Community Forum had been rejected almost in their entirety. There will be no ASLs at the junctions running along the main axis. Cyclists will be directed inside left-turning traffic. Cyclist will be required to swerve behind the bus stops and loose priority to crossing passengers. The bus stops will have guard rails to direct passengers out one side only. Cyclists who want to turn right will be expected to pull in to the left hand side of the road and either press a button or wait for the opposing green light. The content of Mr. Tansey's presentation also reconfirmed his long-stated objective to effectively pedestrianise cyclists at the Dean (Fort Lorenzo) and Browne (Corrib Park) roundabouts. While it was stated that the GTU would look into cycle facilities "at" the roundabouts, in practice this amounts to the same thing.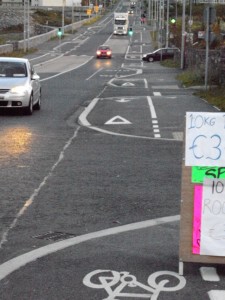 Councillors Brian Walsh and Derek Nolan asked some pointed questions while Councillor Hildegarde Naughton also expressed concerns. Major concerns were repeatedly expressed by the community reps Derrick Hambleton and Shane Foran, supported by Mary Francis O'Conghaile .

The biggest bombshell of the meeting was a statement By Director of Services Ciaran Hayes that the Doughiska road is now the "model" for the rest of the city in terms of cycling provision.

Doughiska had arguably made Galway City an international laughing stock and has been nominated as one of the worst cycle lanes in Ireland. When the Doughiska scheme was first proposed in 2007, Mr. Hayes and Mr. Tansey were openly accused in the council chamber of conducting a "vendetta" against cyclists. After several votes the city officials succeeded in getting the scheme passed. The final design turned out to be worse than could have been imagined. In the space of 1.4km, cyclists had their priority removed at all 18 side roads, several bus stops, a taxi rank and several pedestrian crossings. The engineers who approved the design also stated that they expected cyclists to yield to turning and crossing traffic at every one of the 43 property entrances on the road.

It would seem that this is what the GTU are planning for the rest of the city if they succeed in winning the €25m on offer under the the Smarter Travel Areas Fund. The Smarter Travel program threatens to be a disaster for cycling in Galway.