The Galway Cycling Campaign is calling on Minister for Transport Paschal Donohoe to either drop a recently announced road sign or bring Irish traffic law into line with how the same sign is used in international traffic law. The controversy has arisen out of the Minister's response to a campaign by Jake's Legacy and other groups seeking lower speed limits in housing estates and residential streets. Calls for a housing estate limit of 20km/h have grown since the death of Jake Brennan in Kilkenny.
The use of such limits where children are playing has been standard elsewhere in Northern Europe for decades. The laws of other countries go further and legally define particular streets as "living streets", "residential areas" or "play streets", where children and other pedestrians have legal priority over cars and are legally entitled to use the entire road – playing on the street is permitted and protected by law.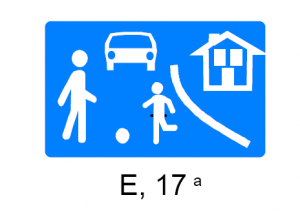 The international sign for residential area with pedestrian priority and legal protection for playing children.
In 1993 the legal concept of a residential area with pedestrian priority and a maximum speed of 20km/h was incorporated into international traffic law – the Vienna Convention on Road Traffic. Under this UN Convention a sign with pictures of a house, a car and two people playing on the road with a ball indicates a "residential area" (sign E17a). The following countries have the same law and similar or related signage: the Netherlands, Germany, Belgium, Austria, Sweden, Poland, Czech Republic, Slovakia, Spain, Belarus, France and Switzerland. The Netherlands, Germany, Belgium and Austria also specify a speed limit of walking speed in these zones.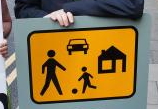 Proposed Irish sign for residential area without pedestrian priority and no specific legal protection for playing children
On 19 March 2015 Minister for Transport Paschal Donohoe announced a proposal for "Slow Zones" with a speed limit of 30km/h in residential areas – effectively rejecting international standards. The Minister's proposal includes a road sign identical to the standard E17a format, but has not announced any supporting legislation to give playing children legal priority or protection. Irish traffic law confines pedestrians to "footways" unless crossing the road. "By using this sign under existing laws the Minister has effectively given it a meaning opposite to common understanding" said Campaign PRO Oisin Ó Nidh.
In a submission to the Minister, the Galway Cycling Campaign points out that Ireland has free travel to and from other European countries. We have a duty to people from other cultures, including children, not to use commonly understood road signs in a way that is confusing and contradicts their original meaning. The Cycling Campaign has called on the Minister to either retract the new road sign or bring Irish traffic law into line with international law.