The first CycleCoffeeCake held today was a pedal-away success. The event, which filled registration within 24 hours of its announcement, shows the latent desire for people of all ages and abilities to gain confidence for cycling on roads, learning safe cycling skills, and enjoy being part of an everyday cycling community. Participants included a man using a recumbent  trike, a proudly self-identifying 'oldie', and Snoopy the dog in a bike basket. The sound of bell chimes and happy chats as people cycled side-by-side was pure joy.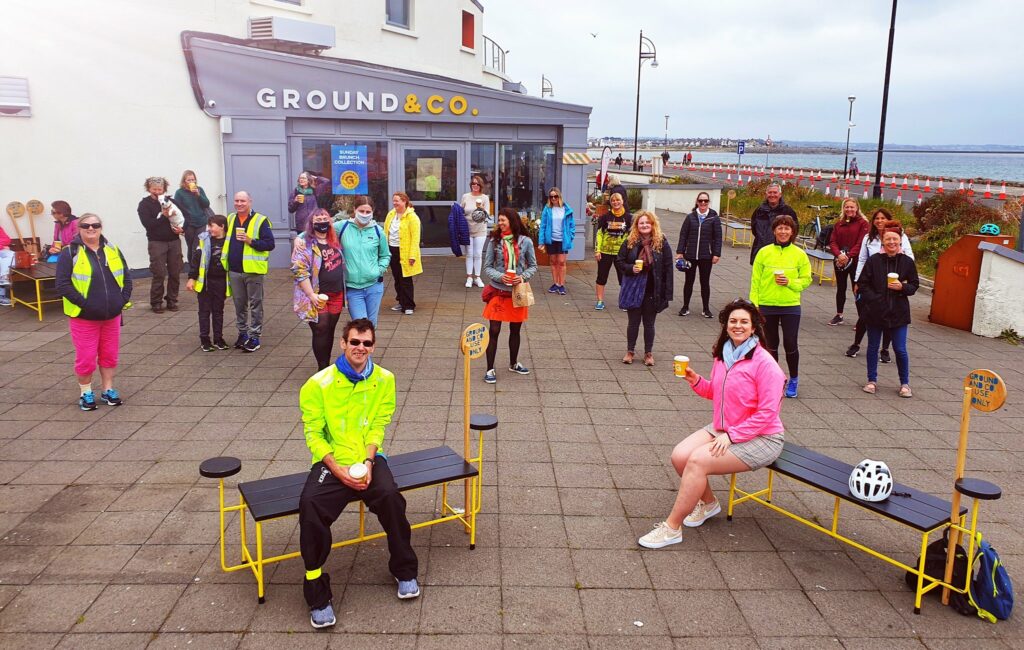 Thank you to all who joined us for the first ever #CycleCoffeeCake this morning. It was thrilling to have people of all ages and abilities with a mix of regulars and newbies on bikes join us for a gentle and including Saturday morning spin for coffee and cake.
New bikes and golden oldies
Eimear Ní Fhlatharta, who bought her bike only a fortnight ago, said the experience helped her feel empowered and more confident about taking space while cycling on-road.
Martina Callanan, spokesman for the Galway Cycling Campaign and creator of CycleCoffeeCake, said that this tweet was the reason for doing what we do.
Eimear's experience is why we set up this social cycling event. We want to enable confidence in people who are new to cycling, or hopping back on the saddle after years or maybe decades. We want to share skills and tips while connecting people with a caring and fun everyday cycling community.

Martina Callanan, spokesperson for Galway Cycling Campaign and creator of CycleCoffeeCake
Before the group departed the start point, a participant asked, "When is the next event?" Gesturing at her red bike with a wicker bike basket, she said, "I'm as old as this bike. I want to cycle!"
The group asked for CycleCoffeeCake to be a fortnightly event during the summer. We are delighted to respond to this request, and so the next event will take place on Saturday 27 June at 10.30am.
Registration details along with the start point and route details will be announced the week beginning Sunday 20 June.
Route details
The route today went from Nimmo's Pier to Blackrock before ending in Salthill village with coffee and cake at Ground & Co.
Instead of the off-road cycle path on the shoreline of the Swamp, the group cycled entirely on-road. This is because a kissing gate from Nimmo's Pier to the Swamp is a Covid-19 contact concern as well as being a mobility obstacle for people with bikes, and in particular, our participant who uses a recumbrent trike.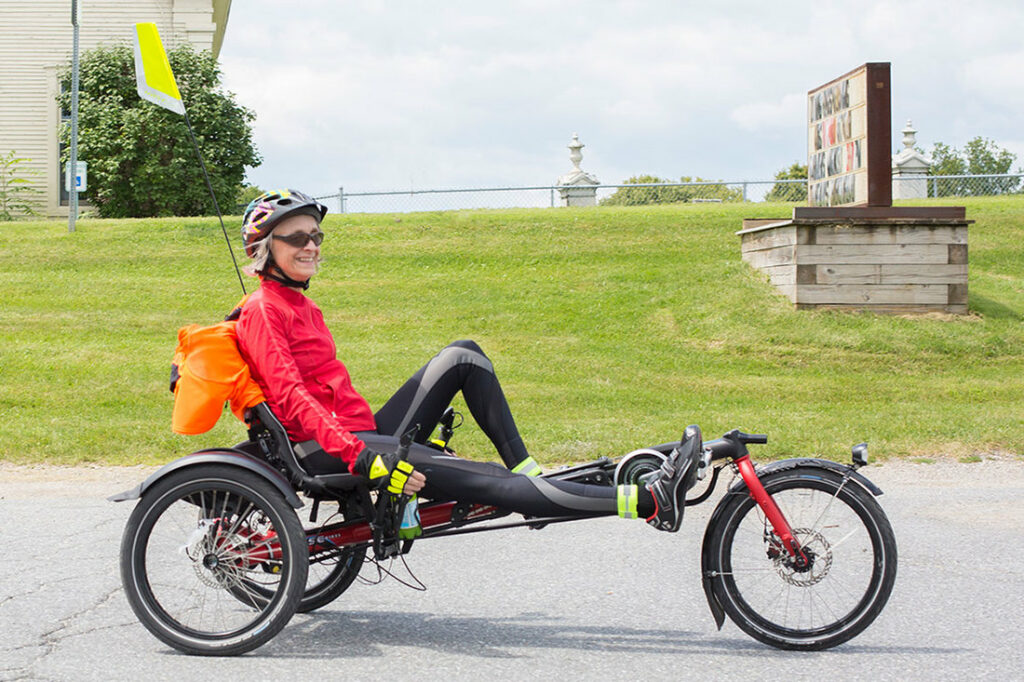 Event partners
Special thanks to Martyna Cwiertnia from An Mheitheal Rothar for giving a terrific bike maintenance talk, which focused on the safety M Check.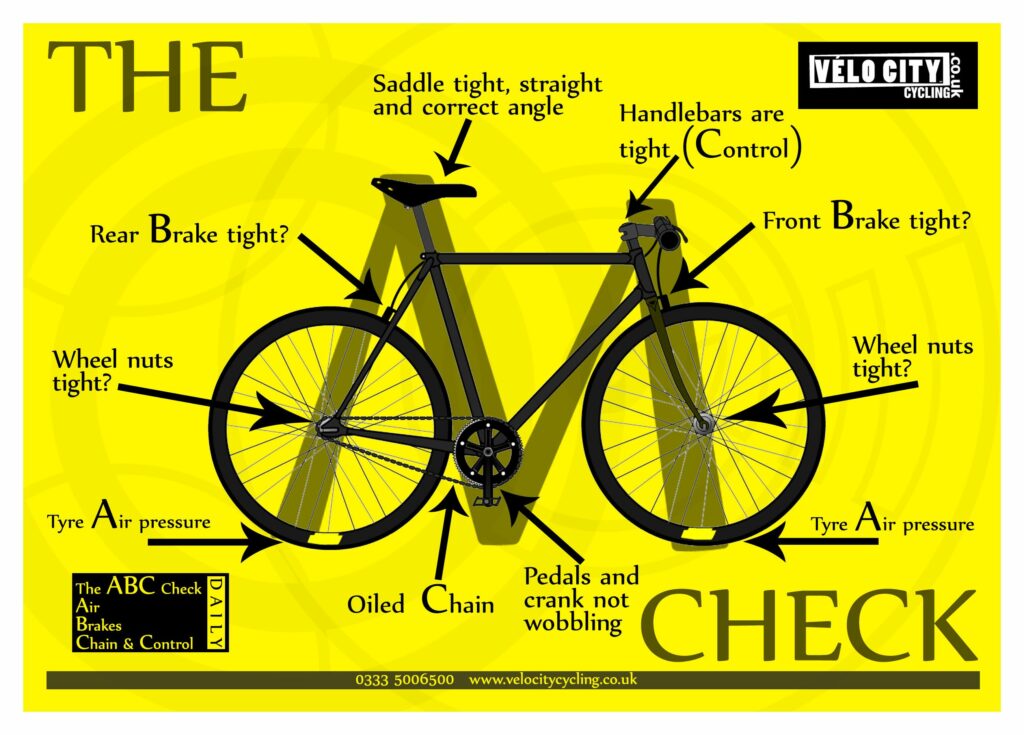 Check out Martyna's bike mechanic YouTube channel, Rainbow Bikes, which has helpful easy-to-do bike maintenance tips as well as videos on vintage bicycle restorations.
It was easy to choose Ground & Co Salthill as our first event partner. The Aquarium Building is a great location in Salthill with lots of space and seats outside to enjoy our complimentary coffee and cake.
Since coronavirus and lifting of lockdown, more people are arriving by bicycle and the bike stands outside Ground & Co Salthilll have never been so busy. We're delighted to support CycleCoffeeCake and sponsor this first-ever event.

Kevin Nugent, owner of Ground & Co Salthill
As well as the event group, many more people on bikes were curious about the event and tagged along behind and joined us for coffee and chats.
Importantly for us, this local café has an abundance of secure bike racks, which we filled.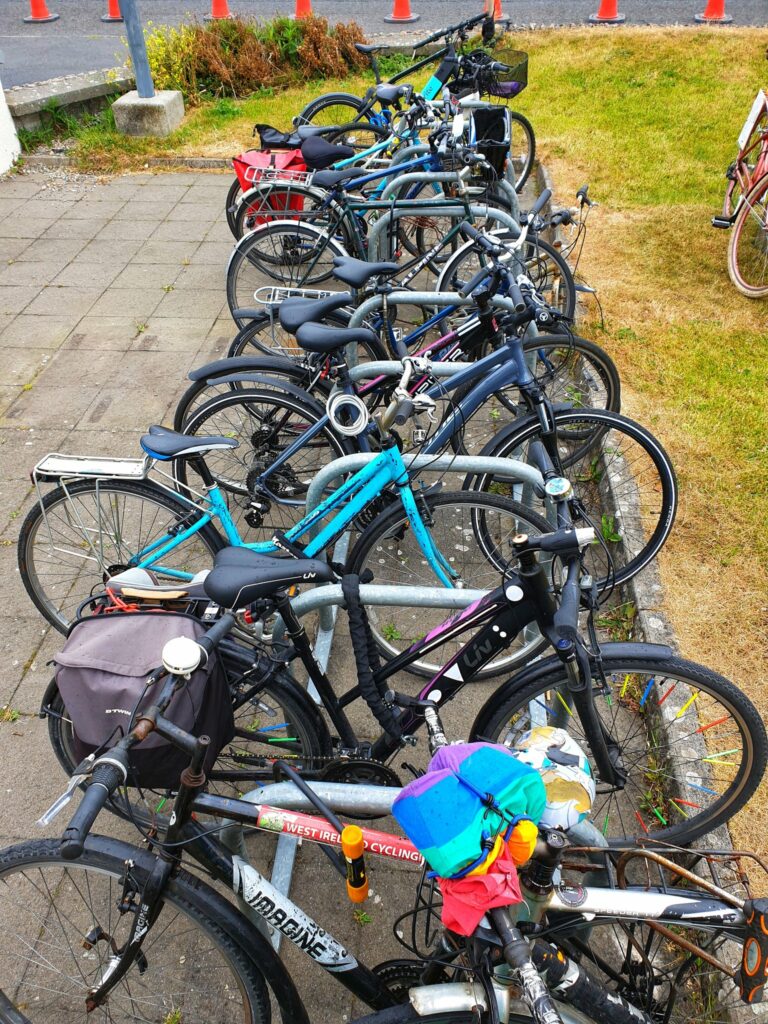 Next event
CycleCoffeeCake will be a regular fortnightly event by the Galway Cycling Campaign during the summer.
We want to help people feel more confident cycling about town and to and from residential and recreational areas. Each event will take a different route and will offer a theme, a guest guide, or a guest speaker.

Kevin Jennings, chairperson of Galway Cycling Campaign
Cake bike trails will be explored across the city, especially those that end in green and blue areas where we can enjoy coffee, cake and chats in safe and pleasant surroundings, like Terryland Forest Park, the Seven Galway Castles' Heritage Cycle Trail / Slí na gCaisleán, Cappagh Park, and Ballyloughnane Beach.
As we reopen society after the coronavirus lockdown, we want to support local businesses, especially those that have safe and secure bicycle parking outside.

Martina Callanan, creator of CycleCoffeeCake
We welcome suggestions of routes and local businesses in the comments below, via email [email protected] or through DM on Twitter.
Save the date!
The next event will take place on Saturday 27 June at 10.30am. A registration link will be live in the week before the event.
If you would like to become part of Galway's everyday cycling community, join the Galway Cycling Campaign for a €10 or a €5 contribution.
Until then, pedal on!