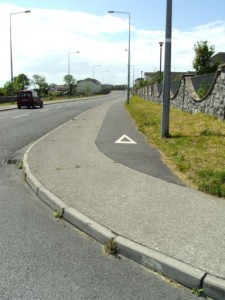 In the latest twist in the ongoing controversy over the consultants (AECOM) assigned to Galway City and Environs Walking and Cycling Strategy, the Council's Director of Services Ciaran Hayes has argued that they do not have to have passed an approved cycling skills course. Last November, the Galway Cycling Campaign wrote to Mr Hayes to establish that the consultants had taken an approved cycling skills course, or had formal training that would allow them to assess roads used by cyclists. Objective 18.3 of the Irish Government's National Cycle Policy Framework (NCPF) states: "We will also stipulate that all local authority roads engineers and any engineer wishing to tender for government road contracts should be required to have taken an approved cycling skills course". Cyclist.ie, the national cycling lobby group, also state that completing an approved cycling skills course is a standard requirement for all consultants undertaking such work. Mr Hayes has responded that his interpretation of national cycling policy is that the undertaking of such training will not be mandatory for road design work. He has also argued that the consultants on the Walking and Cycling Strategy are not engaged in design work, and that there is no approved training course in place.
The Cycling Campaigners dispute Mr. Hayes's interpretation on various grounds. Galway Cycling Campaign chair Shane Foran said, "The first thing this line of argument suggests is that the council have managed to employ cycling consultants who have never been independently assessed on their understanding of cycling in traffic. Why would they argue that the cycle skills training isn't needed unless their consultants haven't done it?" Although they reject Mr. Hayes's line of reasoning, the cyclists point out that his own interpretation is undermined by the consultants' brief which his office issued for the work. The brief states that the consultants must proof their work with regard to the NCPF: "If they are working to the policy document as part of their brief, this suggests that to fulfill their brief the consultants must have done the training," continued Mr. Foran.
On the claim by Mr. Hayes that the strategy does not include design work, the cyclists point out that the consultants' brief includes "retrofitting and making modifications to the existing travel routes, footpath and cycletrack linkages in all developments, integration with public transport, integration with public amenities and recreational facilities, and accessibility for people with disabilities". "As far as we are concerned these are all design activities," said Mr. Foran.
Finally, the cyclists reject Mr. Hayes's argument that there is no "approved" cycling skills course. In fact, there is only one accredited cycling skills course available: the UK National Standard for Cycle Training, which is overseen by an official Cycle Training Standards Board and whose instructors must be inspected to obtain accreditation. The Irish Green Schools Travel staff, who work with 400 schools, have been trained as UK National Standard instructors. The Galway Cycling Campaign hold that this provides a reference cycling skills course against which the AECOM staff can be evaluated. "AECOM are based out of a main office in London," the campaign PRO spokesperson Oisín Ó Nidh pointed out, "they are within a short distance of several accredited training providers who could do the course with them for around a few hundred pounds. You would think they would just go and do the course."
Irish National Cycle Policy Framework
http://www.transport.ie/upload/general/11387-0.pdf
"NCPF 18.3 Training of Professionals
We will organise training workshops / sessions for all design professionals in understanding and using the new guidance produced.
We will also stipulate that all local authority roads engineers and any engineer wishing to tender for government road contracts should be required to have taken an approved cycling skills course, together with a course on cycling friendly infrastructure design."