Galway Cycling Campaign is inviting families to come out and join in
the fun of a bicycle treasure hunt this weekend.
The event is one of the highlights of Ireland's National Bike
Week/Seachtain na Rothaíochta (13–20 June 2010). The bicycle treasure hunt
is an ideal fun activity to bring your kids to, this Sunday 13 June.
Not only will it give children and teenagers the opportunity to enjoy
some of Galway's most scenic cycleways, it will also give them a fun
challenge in the process. All participants are in with a chance of
winning cycle-related prizes.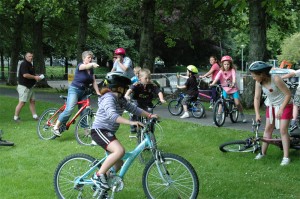 Families can choose from two different scenic routes: the Explorer
course is aimed primarily at younger riders and their adult
supervisors and will be completely traffic free, while the Adventurer
course will feature some short on-road sections around Galway's canal
system. Participants will collect cycle-related trivia en route, which
will outline the benefits of cycling for the individual, the community
and the planet.
Last year's event was hugely successful, with around 100 people
participating. Stewards will be on hand to man all the on-road
junctions, but it is recommended that participants under 18 be
accompanied by an adult. Registration is between 12 noon and 1 pm at
the Arts Millennium Building, NUIG. Light refreshments will also be
provided.
What better way to spend a lovely June day than on your bike cycling
along the beautiful River Corrib? If that doesn't tempt you, then the
opportunity to win a prize should twist your arm. Bike Week is a
series of nationwide events organised by cycling groups, communities
and local authorities, supported by the Department of Transport.
Volunteers are always needed for events like this, so if you or anyone
you know are interested in lending a hand, you can contact the Galway
Cycling Campaign on 086 1611587 or e-mail [email protected]. A
brochure listing the full schedule of Galway events is available to
download from www.bikeweek.ie.