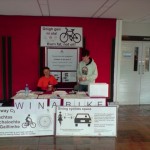 On the 24th of September the GCC marked mobility week '09 with an "edutainment" event in NUI, Galway.  There was a competition using the information signs from the summer bicycle treasure hunt which were arrayed along the main concourse.  (Reputedly the longest enclosed space in the country). University vice president Keith Warnock, sponsored two bicycles worth EU250 each and mountain trail sponsored some bike accessories.   To enter the draw participants had to answer questions on measures to promote cycling and improve safety. The information signs covered the usual suspects: Roundabouts, one-way streets, permeability, cycle-parking, 30kph zones and so on.
The stand was manned in shifts by a team of GCC members: Indiana, James, Amy, Martin, Justyna, Oisin, Andrew, Catherine, Fionnuala.
The winners of the competition were Jennifer O'Grady, Eimear Tuohy and Brendan Dineen.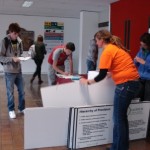 The event  really got the message out there and was an event worth repeating we have had more people express interest in getting involved as a result.   Big thanks go from the committee to all who helped out.  Particular thanks go to Indie Olbert who was our contact with the college and made it happen on the day.