Galway Cycling Campaign is delighted to co-host a special edition of our CycleCoffeeCake events with Galway Community Pride in Galway city centre this Sunday morning, 16 August.
Bi-Cycle Pride & Coffee / Bi-Cycle agus Caife is a special co-hosted event between Galway Cycling Campaign and Galway Community Pride for the 2020 festival.
** EVENT DETAILS **
Sunday 16 August 2020
10.30am – 12.30pm
Meet: Raven Terrace, Galway's Westend, from 10am
Depart: 10.30am sharp
Route: Galway's city centre
Coffee & Cake: At Raven Terrace from 11.30am to 12.30pm.
People are asked to gather at Raven Terrace from 10am for a prompt 10.30am departure. The route will be at a gentle pace throughout the city and arrive back at Raven Terrace about 11.30am for coffee and cake at a local café.
** Participants must register online here in advance to comply with Covid-19 public health advice.
The Bi-Cycle and Coffee event is supported by Cllr Owen Hanley, Cllr Níall McNelis, and Simon Heaslip and Galway's Westend Traders Association.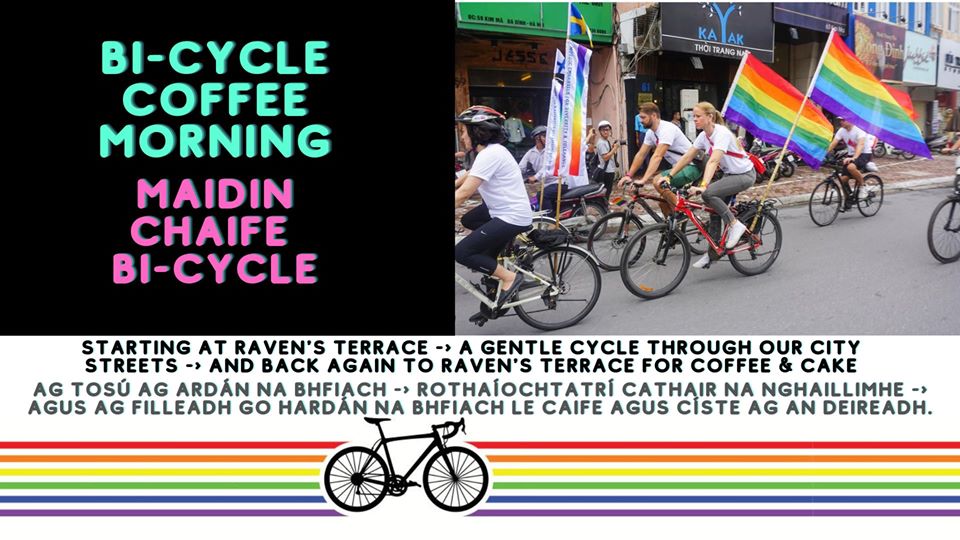 Co-organiser Martina Callanan encourages people to dress up.
"Wear your rainbow colours, paint your faces, and bling out your bike. CycleCoffeeCake events have been a huge success this summer with a diversity of cyclers of all ages and abilities. We are delighted to Bi-cycle with Pride."
Cllr Owen Hanley, co-organiser, says that in normal times, the Sunday morning event of Galway Community Pride is an open house at Teach Solais for people to gather for chats and cups of tea. 
"This year is different, and with so many people back on bikes, Bi-Cycle & Coffee is the perfect way to come together for a fun and socially distant event."
The regular CycleCoffeeCake events have been enormously popular since the lifting of lockdown. They have explored different parts of the city including Blackrock, Salthill, the city centre, Renmore to Roscam, showing novice cyclers and those who hopped back on the saddle quiet routes through neighbourhoods and creating opportunities for adults to nurture cycling confidence.
RESIGTER HERE – shorturl.at/uIQSV
More information is available on social media using the handle @GalwayCyclicng