Tonight, Thursday 3 September Galway Cycling Campaign will host its regular monthly meeting online from 7.30 to 9.30pm on Zoom. Top of the agenda are discussions of safe routes to school and the Galway Cycle Bus, and the ongoing citywide review of speed limits.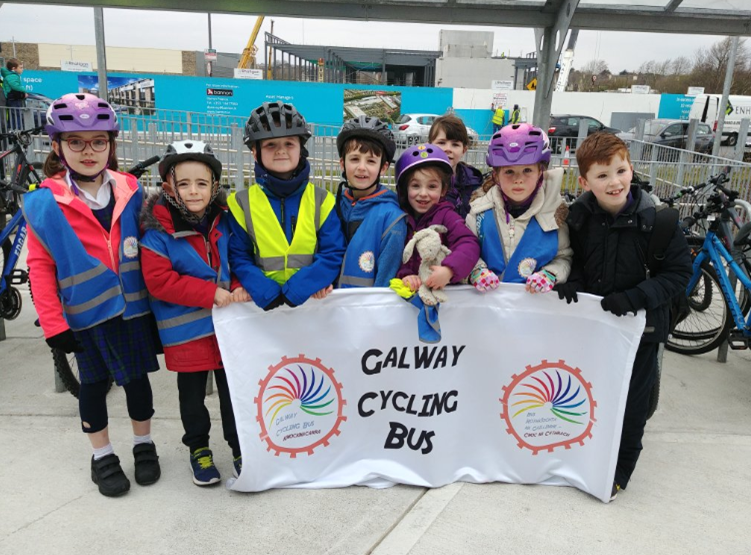 The group of Galway residents welcomes the proposed speed reduction to 30kmph within the inner city centre. This will make it safer for children and students to access city centre schools and colleges by foot, bike, scooter and wheelchair.
They believe that all schools and educational institutions across the city should have the same protection from traffic.
"Most of our children go to primary and secondary schools in the suburbs where the standard speed limit on the school road and approach roads is 50kmph. If one of my children walking or cycling to school is hit by a car moving at that speed, which doesn't feel fast to a person driving, she'll have a 50:50 chance of surviving. At 30kmph, her chances are 90%. It's that simple," says Kevin Jennings, Chairperson.
He also points out that reducing speed limits on roads close to places of education will make it safer and more pleasant for students to walk, wheel, cycle or scoot to school, college, NUI Galway, and GMIT. Slower speeds reduce noise pollution, fuel emissions, and air pollution.
"Parents biggest – and reasonable – fear preventing them from encouraging independent travel in their children and teenagers is the behaviour of road users," said Mr Jennings. "I understand this too. My five-year-old started school last week and I chose to drive her there. She's well able to cycle the distance but I didn't feel safe to cycle with her on busy roads. She was upset – she sees her bigger brother and sister cycle and wants to be like them."
Dublin City Council is planning for a 30kmph speed limit almost everywhere within the M50 to improve road safety and reduce violent death. It received over 2,000 submissions during its public consultation.
Dublin City Council said that an examination of international experience and the existing 30km/h limited areas in the city "recorded only positive outcomes in terms of this road safety objective". Residents already living in a designated 30km/h area, signalled continued support for retaining the limit.
"Dublin is showing us that with leadership from council and elected councillors, it's possible to change our streets to create safer, healthier, and happier streets," said Martina Callanan, deputy chairperson.
"We expect our council and public representatives will share Dublin's ambition to keep people of all ages and abilities safe as we walk to the local shops and cafés or cycle, scoot or wheel to work and school. If Dublin can lower speeds and build cycle paths and coastal mobility lanes, so can we," concluded Ms Callanan.
Also on tonight's agenda are the Change Our Streets Campaign, the recent announcement of Active Travel grants to both City and County councils as part of the July Stimulus, Galway-Dublin Greenway, and bike parking.
All members and guests are welcome to attend. Email [email protected] to receive the Zoom meeting link.