Please allow a while for map to load…
Explanation: what's all this?
As part of Census 2016 everyone in Ireland on Census night had where they live along with the location of their workplace, school or college recorded and processed. These data, along with people's primary mode of transport (and other demographics) have been made publicly available on a neighbourhood-level.
Here we have mapped these data at a neighbourhood level in and around Galway City. This shows each area by the levels at which people begin their trip by bike to work or education (by origin). This can be displayed as the total number or as the percentage in a neighbourhood. We also show areas which are the destination of peoples journey to work or education by similar summaries.
Other data include the total numbers of people travelling from an area to work, school or college, or travelling to an area. The percentage of households which have access to a car/van, can also be displayed.
Each location is clickable with more information, including the proportions of "Active transport" (walking and cycling) and "Private transport" (driving or being driven in a car/van/other private vehicle).[/et_pb_text][/et_pb_column][/et_pb_row][et_pb_row _builder_version="3.26.6″][et_pb_column type="4_4″ _builder_version="3.26.6″][et_pb_text _builder_version="3.26.6″]
Example of how to read the map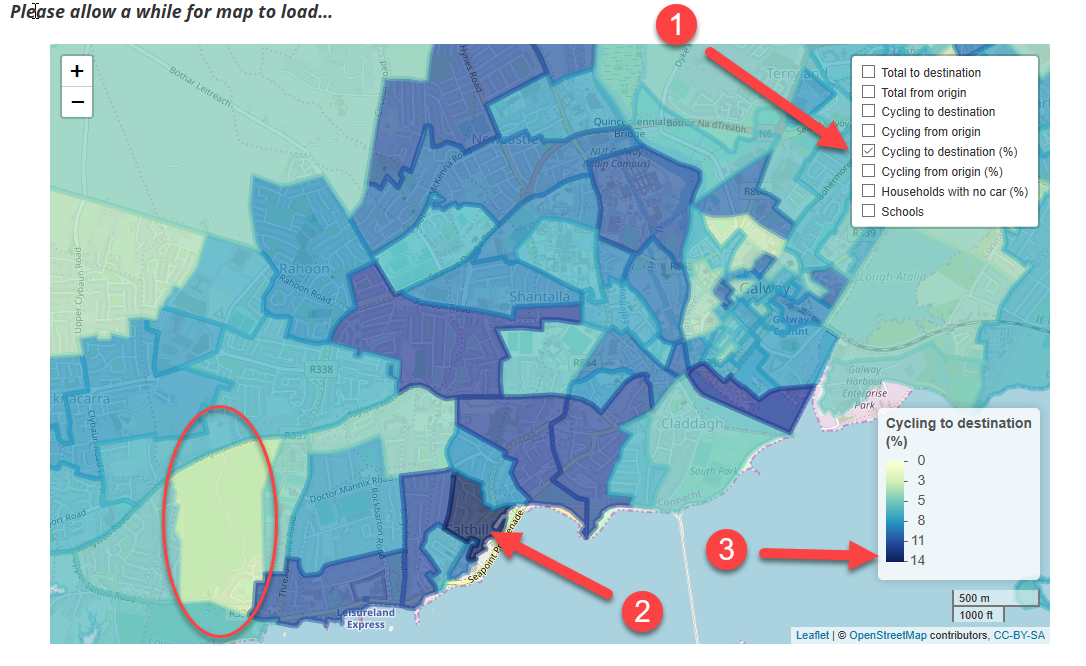 In this example we choose checkbox
'Cycling to destination (%),
In the resulting map can see that area marked 2 is the darkest shade.

This means that Salthill Village has the highest percentage of all trips to Salthill by Bike in Galway City.

This does not mean that

Salthill has greater numbers cycling to it as a destination compared with Galway City Centre, it just means as a percentage of all trips it has a greater proportion relative to other modes.

The elipse shape(marked in light yellow) shows Galway Golf Club Course. So pretty obvious no Galway Golf Club Golfers take the Cargo Bike to the Golf Club :¬)
Your journey, your story?
What about where you live or where you work or go to school? Are they cycling hot-spots or cycling deserts? Let us know what it is like to cycle your daily journey in the comments, or get in touch via email ([email protected]) and maybe we could profile your neighbourhood? Could the cycling infrastructure be improved (yes, of course it's Galway!) and if so how?