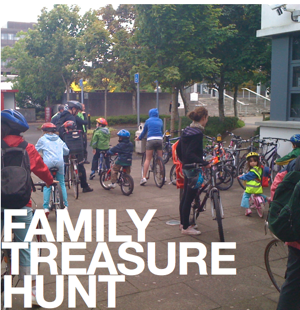 Family Cycling Treasure Hunt
The annual Family Cycling Treasure Hunt is a chance for children and adults to explore Galway by bike and learn more about cycling safety, skills and culture.
Date & Time: Sunday 26th of June, 2011 from 2:00pm to 6:00pm
Venue: Starting at Renmore AFC Clubhouse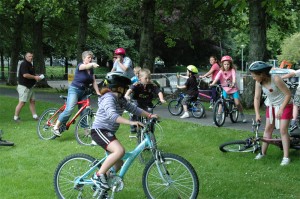 Event details::
On Sunday the 26th of June 2011 the annual Galway Cycling Campaign Bicycle Treasure Hunt closes this years bike week in Galway. A family oriented event with a focus on junior cyclists, it will start from the Soccer Club on Renmore Avenue. Participants can arrive by car if they choose, and stay within a relatively traffic-free environment following quiet residential roads for a couple of hours of two-wheeled fun. (Helmets optional – entry is free!)
The Treasure hunters will need to collect cycling related facts from volunteers and from information provided on temporary signs. The cycle campaign would provide the personnel to guide the participants in answering questions at various points and provide the facts about the potential for cycling in Galway.
• How long to cycle to Eyre Square from XXXXX?
• How many people live within a 25-minute cycle of school or work?
• Whats your favourite kind of bike?
There will also be cycling skills lessons and "tests", e.g. "Show me how to give a hand signal"; "Show me how to use your brakes". Registration runs from 2-3pm and families can take the course in their own time. Everyone gathers back at the soccer club for bike maintenance checks, refreshments and a prize draw at five pm.