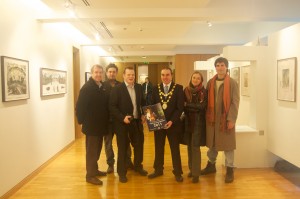 The Galway Cycling Campaign has launched its Smarter Travel funded Image of Cycling in Galway project with a high-quality calendar celebrating cycling in Galway city and county. Launching the calendar, city mayor Michael Crowe said, "Anyone in business knows the necessity for good marketing; the business of promoting cycling is no different. With these calendars, Galway has again showcased the grassroots talent that makes Galway an icon for other Irish cities."
Composed of stunning photographs by up-and-coming talents Chris Tierney and Peter Fedrizzi, the calendars cover all aspects of cycling in Galway and the cyclists who make up all facets of life in Galway city and county. There are cycling teachers, cycling college lecturers, and the smiling children at Galway's annual Bike Week Treasure Hunt. The amazing success of the Green Schools Travel program is epitomised in a photo of the children of Eagles Nest national school in Renvyle tearing down a local beach on their bikes. There are stories of how cycling helped people overcome adversity, such as Liam Cullinane, who was able to regain his independence after a severe bout of meningitis, and local hurling star Dave Collins, who cycled back to fitness after a catastrophic injury on the pitch.
There is a cycling Garda and a bus driver who cycles to work every day. The arts are featured, with Páraic Breathnach relating the story of his first bike, and Natalia Surina, a harper whose bike is her first choice in transport. The sport of cycling is celebrated with local champion Sadhbh Baxter of the West Coast Wheelers. The grass roots of cycling activism in Galway is also captured in the monthly Critical Mass bike rides, with balloon-festooned cyclists flying the flag for fun (and politics with a small p)!
The calendars are just one aspect of a larger €28,000 Image of Cycling in Galway project co-ordinated by Justyna Kocjan on behalf of the Galway Cycling Campaign. As part of the project, a unified brand and logo for cycling in Galway has been developed by graphic designers Simon Fleming and Alexa Mottram under the catchphrase "Treibheanna ar Rothair" ("Tribes on Bikes") and will be promoted via various promotional items across the city and county.
The calendars are freely available in bike shops, outdoors shops, Green Schools, Charlie Byrne's bookshop, Galway City Council, Galway Transportation Unit, HSE Health Promotion, NUIG, and GMIT, and can also be requested by emailing [email protected].
For more information, visit our websites:
www.galwaycycling.org
www.tribesonbikes.ie
ENDS
Notes for journalists
Galway Cycling Campaign:
Formed after a large public meeting in 1998, the Galway Cycling Campaign works to promote cycling as a healthy, convenient and accessible form of transport in Galway city and county. The €28,000-funded "Image of Cycling in Galway" is just one of a number of projects the Cycling Campaign is involved with to promote Galway as Ireland's Cycling City. Working with the Chamber of Commerce, the campaign has also obtained Smarter Travel projects funding of €400,000 for bike parking at city businesses and €8,000 to train and support Workplace Cycle Champions at offices and factories. Other activities include the annual Bicycle Treasure hunt for the city's younger cyclists and the Faster by Bike in Galway project (co-funded by the City Council and the HSE), which puts signs up on traffic lights with safety messages, indicating typical cycling times to key destinations. The Cycling Campaign also produces cycle skills leaflets that are now being reproduced in Waterford and Dublin.
Photography:
© Christopher Tierney
www.chrisdidthis.com
[email protected]
© Peter Fedrizzi
www.peterfedrizzi.com
[email protected]
Logo design:
Alexa Mottram
[email protected]
Simon Fleming
www.simonfleming.ca
[email protected]
Text editing:
Stan Carey
www.stancarey.com
[email protected]
Irish text translation and editing:
Gearóid Ó Casaide
Liam Ó hAisibéil
Website design:
James Gallagher