The Galway Cycle Bus is delighted to announce it has been invited to join the ChangeX community. The Knocknacarra-based initiative promotes active travel for school children by experienced volunteers, parents and teachers escorting children to school by bike at various 'pick up' points in housing estates en route from Cappagh Road to Knocknacarra NS and Gaelscoil Mhic Amhlaigh near Millers Lane.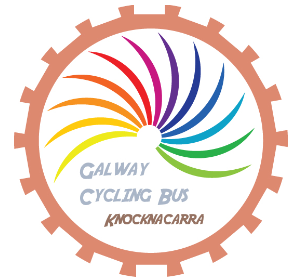 ChangeX provides turnkey solutions for companies investing in communities worldwide. It is a platform that gets proven ideas and funding directly to anyone ready to lead impactful projects in their communities. The Galway Cycle Bus joins Irish Men's Sheds and Playworks Ireland in the ChangeX community.
The Galway Cycle Bus's step-by-step 51-page guide to creating a cycle bus has been used by families and schools across Ireland from Dublin to Leitrim and Limerick. It is now available online to an international community.
'We're thrilled to have been asked to join the ChangeX platform and we hope that other communities all over Ireland and abroad will use our Cycle Bus experience and to create similar initiatives facilitating more active travel for primary school children," said Alan Curran, parent, teacher, and co-organiser. "We also welcome financial and in-kind support from local businesses."
"Cycling to school with your classmates and neighbours is an ordinary thing yet absolutely fun. We start off every day brimming with joy. It's just great," said Neasa Bheilbigh, also a local parent, teacher, and co-organiser. "Our Galway Cycle Bus continues to grow and it's wonderful that from now it will bring even more communities across the world together."