This year Bike Week looks a little different. We've organised online meetings, info sessions and working groups since March, and so we're using this experience to bring you a series of webinars with guests from Ireland, Europe, and the USA.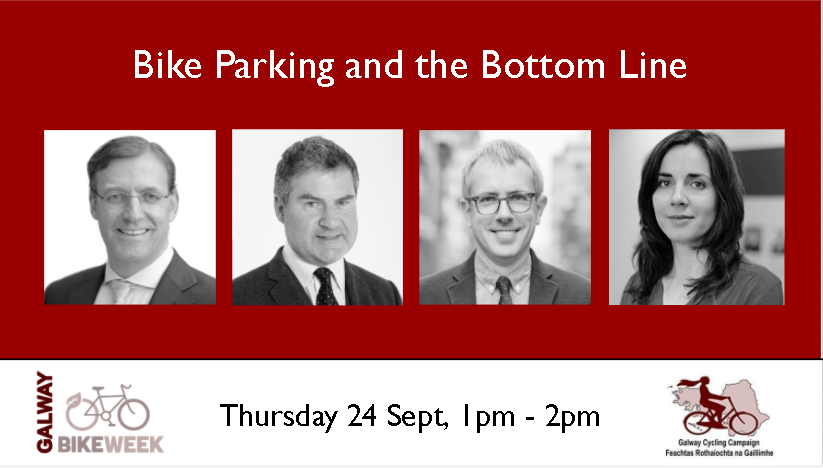 Bike Parking and the Bottom Line
The Covid-19 pandemic has had a huge impact on local businesses and retail in Galway city and county. We're all living our lives more locally these days and government advice is to walk or cycle where possible. International research and the experience of Dublin shows that quality and inclusive bike parking is an investment in local and loyal customers.
His Excellency, Adriaan Palm, Ambassador at The Netherlands Embassy to Ireland
Chris Bruntlett, Dutch Cycling Embassy and co-author of Building the Cycling City: The Dutch Blueprint for Urban Vitality
Richard Guiney, CEO of Dublin Town
Clodagh Colleran, Development Studies Association of Ireland, Trinity College Dublin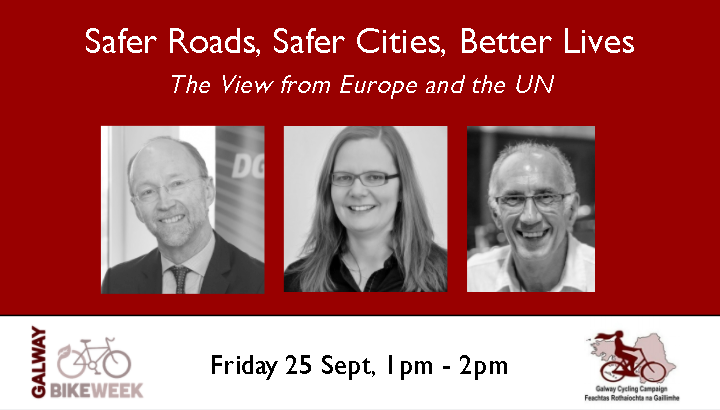 Safer Roads, Safer Cities, Better Lives: The view from Europe and the UN
Decisions made by the European Commission and the UN have an impact on the road design and safety of our urban roads, residential streets, and bóithirín.
Insights into the impact of the lockdown on road safety from across Europe will be discussed as well as ideas for how we deal with a transition out of it.
Our guests from Europe will share how and why safe walking and cycling infrastructure and reducing speeds must be at the heart of our transport and mobility evolution.
Matthew Baldwin, the first European Coordinator for Road Safety and Sustainable Mobility
Ellen Townsend, Policy Director at the European Transport Safety Council
Rod King MBE, Founder and Campaign Director of 20's Plenty for Us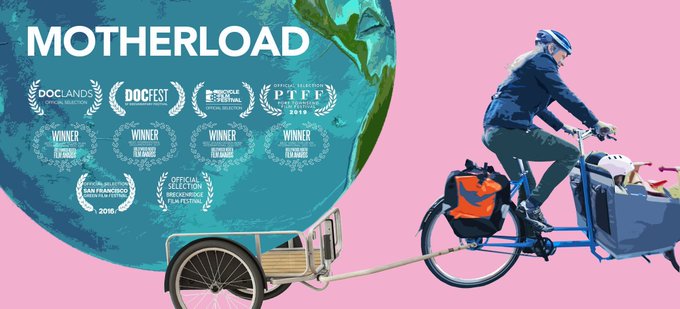 MOTHERLOAD, the movie
MOTHERLOAD, virtual community screening in Galway and Q&A with director Liz Canning
Date: Sunday, 27 September 2020, 7.30pm – 10pm
Our grand finale to Bike Week 2020 is hosting MOTHERLOAD as a virtual community screening and covideo party. We're delighted that director Liz Canning will join us for a Q&A on Zoom immediately afterward for a panel discussion with urban liveability and health experts.
This 86 minute documentary from the USA captures a new mother's quest to understand the increasing isolation and disconnection of modern life, its planetary impact, and how cargo bikes could be an antidote. It won a Sundance Special Jury Prize in 2019.
Join the covideo party on Twitter using the hashtags #MOTHERLOAD #MOTHERLOADgalway
Post-screening Q&A with
Liz Canning, director of MOTHERLOAD
Neasa Bheilbigh, Galway Cycle Bus
Síle Ginnane, co-founder of Better Ennis
Jo Sachs-Elderidge, organiser of the Leitrim Cycling Festival and co-author of A Vision for Cycling in Rural Ireland by the Rural Cycling Collective
>Register for screening and Q&A webinar<