Join the Galway Cycling Campaign
You can get involved in any capacity and to whatever extent suits you.
Find out about us:
If you'd like to meet us first, come along to one of our regular informal social evenings – we post the details on our Facebook and Twitter pages.
How to join
Become a member by signing up via LoveAdmin.
Cost
€10 waged annual membership
€5 unwaged annual membership
You will need a Credit card or a Paypal account to join.
Join now!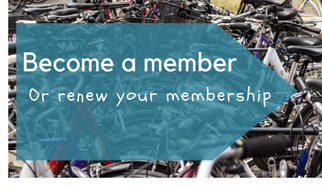 Membership options
You can either become an active member or a supporter. Both cost the same.
Active members may attend meetings, socials, do stuff etc.
Supporters (who are also members) cheer us on from the wings, giving us a mandate.
Your membership fee goes towards basic organisational administrative costs.
Your membership is vital to support our efforts, helping to give cyclists a louder voice, and adding weight to our campaigns. Please support our work.